My name is Madeline Kaufman, and I am a Master of Science student at the University of Miami's Rosenstiel School of Marine and Atmospheric Science in Dr. Diego Lirman's Benthic Ecology Lab. I am on the Marine Biology and Ecology (MBE) track in the Coral Reef Ecology and Conservation curricular group, and am interested in studying genetic markers of thermal tolerance in corals for my thesis research and applying findings to coral restoration.
While I am still in the process of developing a proposal for my thesis, I assist with all other ongoing projects in the lab. I dive on a regular basis and maintain our coral nurseries, outplant corals and monitor reefs, and also work to propagate mounding corals through microfragmentation. I also assist with seagrass bed surveys and help my labmate with his project investigating benthic communities through using artificial seagrass units.
I am actively involved in outreach as an ambassador for Rescue a Reef, the citizen science project of the Lirman Lab. As such, I help lead SCUBA excursions in which recreational divers come participate in coral gardening, educate students about coral restoration, and table on behalf of our organization at outreach events.
I also work part-time as a divemaster and environmental coordinator at South Beach Divers, a PADI 5-star facility in the heart of South Beach that regularly runs excursions in Miami and Key Largo. As such, I organize and lead conservation-oriented dive trips including reef cleanups, Lionfish derbies and coral restoration expeditions. I also teach SCUBA refresher courses and guide certified divers at sites along the Florida Reef Tract, working with the international clientele that come to dive in Miami from all over the world.
In my free time, I volunteer as outreach coordinator for the nonprofit Debris Free Oceans, a 100% volunteer-run 501(c)(3) based out of Miami, dedicated to eradicating marine debris through outreach, education and cleanup events.
Did you know that reefs provide nearly $30 billion in ecosystem services each year, between coastline protection, food, jobs, tourism, carbon sequestration & medicinal compounds? (Conservation International, 2008).
But 75% of coral reefs are threatened by global warming and local stressors (Burke et al. 2012). Coral cover in the Caribbean has declined by at least 80% since the 1980s (Gardener et al. 2003).
Did you know that there are more than 5 trillion pieces of plastic in our oceans? (Eriksen et al. 2014).
Marine debris has impacted at least 267 species through ingestion, entanglement and more (Laist, 1997). Plastic contact increases the risk of disease in corals 20-fold (Lamb et al. 2018).
Marine pollution has also given rise to human health concerns, as toxic and carcinogenic compounds associated with marine debris can make their way up the food chain to us (Thompson et al. 2009).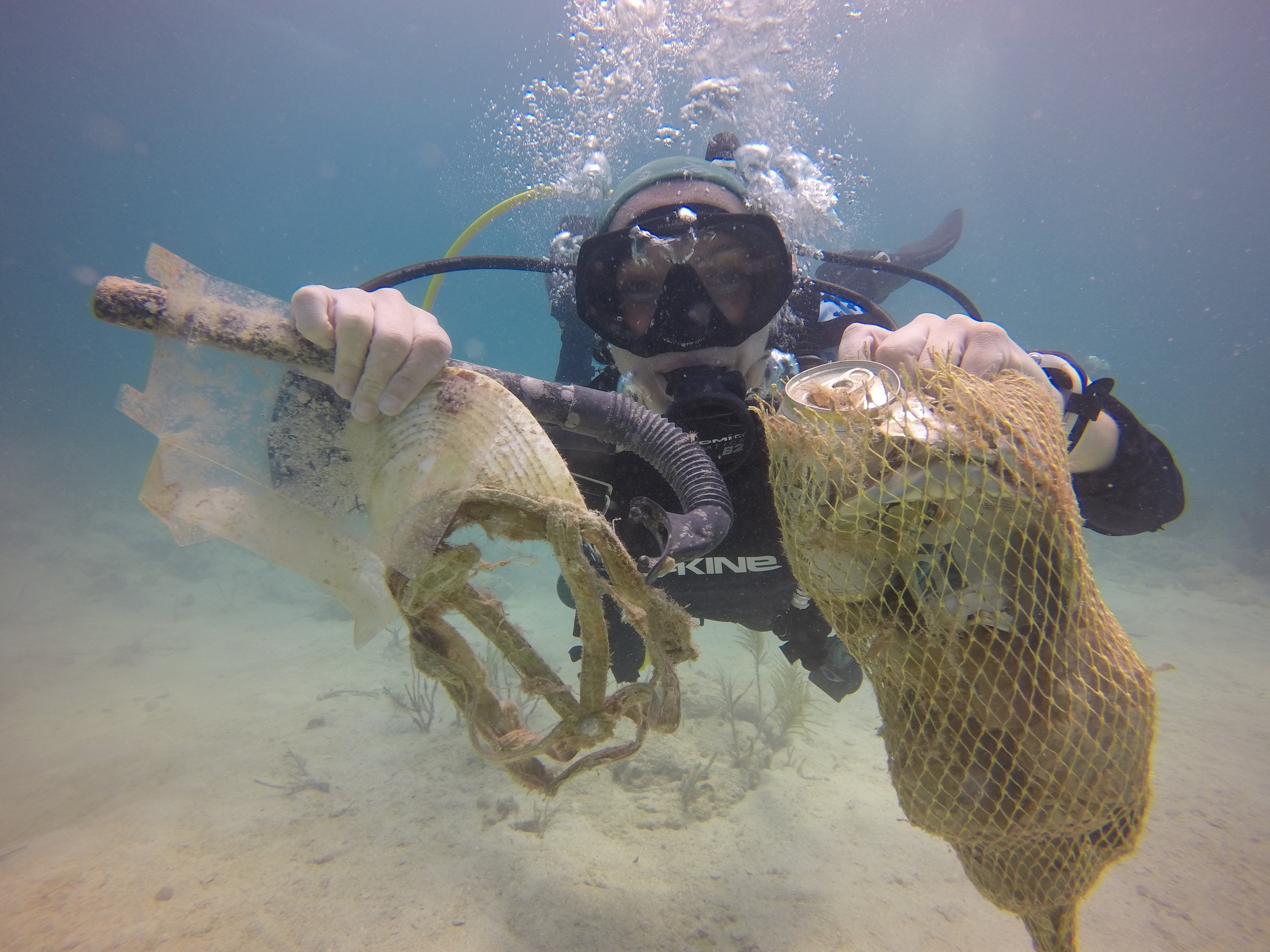 But, there is so much you can do to help, scientist or non-scientist!
Plastic pollution is reversible, and innovators are coming up with incredibly creative ways to save our reefs & oceans!
And the best part is that everyone can get involved and have a great time in the process!